Description
NITRO-TECH contains protein sourced primarily from whey protein isolate – one of the cleanest and purest protein sources available to athletes. It is also enhanced with the most studied form of creatine for faster gains in muscle and strength.
ULTRA-CLEAN PROTEIN FORMULA
NITRO-TECH contains 30 grams of protein, primarily from whey protein isolate, ultra-filtered whey protein concentrate and hydrolyzed whey protein isolate, with only 2 grams of carbs and 1.5 grams of fat!
BUILD MORE STRENGTH THAN REGULAR
WHEY PROTEIN
NITRO-TECH contains a research-proven dose 3g of creatine monohydrate which combined with whey protein will help to build more strength than regular whey protein. In one study, subjects using the whey/creatine combination in NITRO-TECH increased their one-rep max bench press by 34 pounds, compared to only 14 pounds for subjects using regular whey protein.1
BUILD MORE MUSCLE THAN REGULAR
WHEY PROTEIN
Research conducted and published in a scientific journal shows that subjects using the core formula in NITRO-TECH gained 8.8 lbs. of lean muscle in six weeks compared to subjects who used regular whey protein, who gained 5.1 lbs.1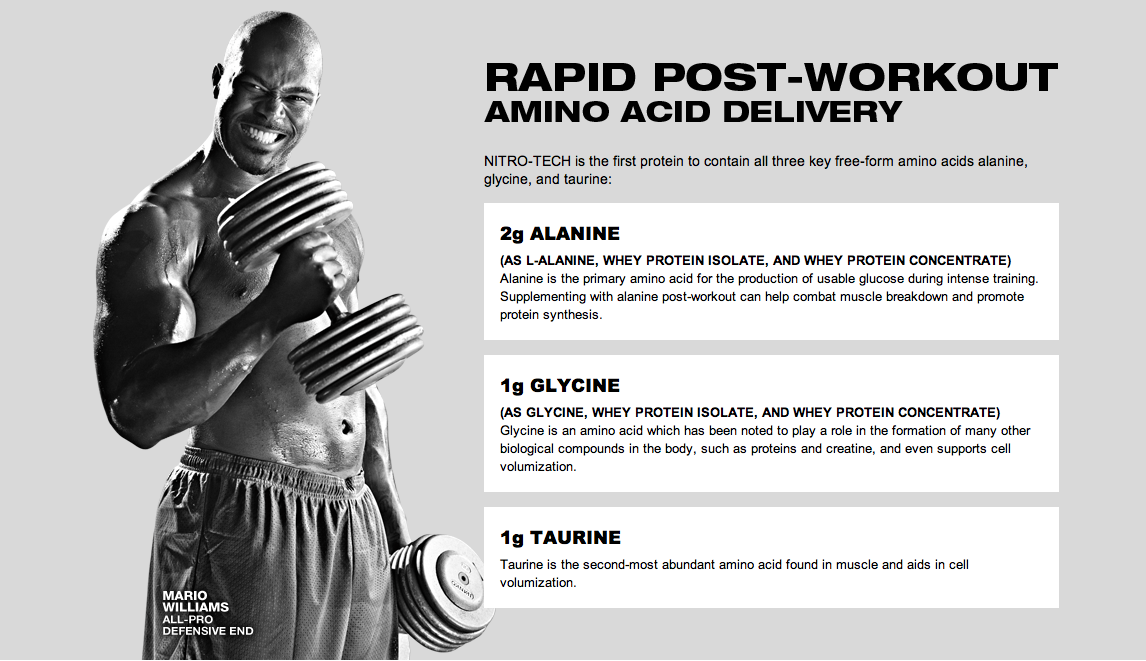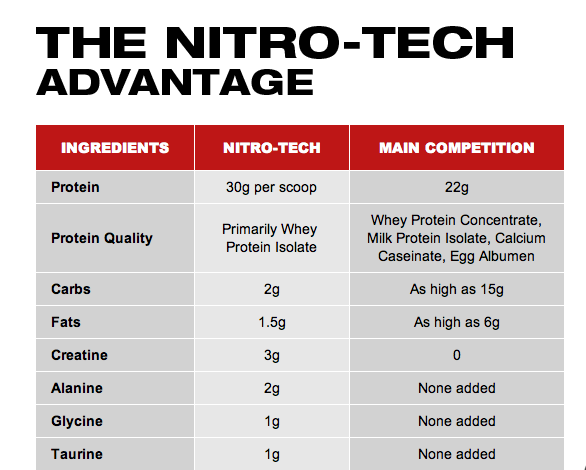 BEFIT TIPS
Mix 1 serving (1 scoop) with 4 to 6 oz. (118-177mL) or mix 2 servings (2 scoops) with 8 to 12 oz. (236-354mL) of cold water or skim milk in a glass or shaker cup. Use between major meals and after exercise. Drink 8 to 10 glasses of water daily. For maximum results, consume 4 scoops of NITRO-TECH® Performance Series daily for a minimum of six weeks.